The Gillett Sno-Riders has been in existence since the early 1970's. Our club maintains 17.7 miles of trails through the country, towns, and private land of Gillett, Underhill, and Maple Valley. We are responsible for trail easements, signing, brushing, grooming, and other maintenance. Our club puts together a club directory and plans snowmobile trips together.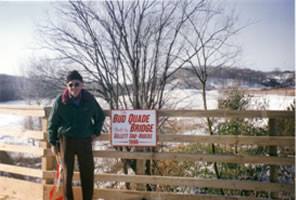 The Bud Quade Bridge was renovated and dedicated in 1996. The bridge takes you over the Oconto River and is 535 feet long. The bridge was originally built in 1917 by the Chicago Bridge & Iron works and then purchased in 1982 from the Chicago & Northwestern Railroad.
After being purchased it was made into a recreational trail. The bridge was featured in the 1928 Lon Chaney movie "Thunder Below".